Creating a Shift links the Venue, Location, Role, and Staff to a specific Start and End time.
To start, navigate to your Opportunity Schedule Tab. You can then click the 'Add Shift' button. The add Shift button will appear on all views of the Schedule except for the Scheduled Staff List view.

This will bring you to a pop-up where you can begin to enter the Shift details. To start you will want to enter all the Shift basics such as title, date, time, and choose the color for the Shift block in the calendar view. At the bottom of the pop-up, there is a text box where a description of the Shift can be entered. This can be used to describe specifics or to enter hyperlinks to Shift specific FAQ pages or other related information.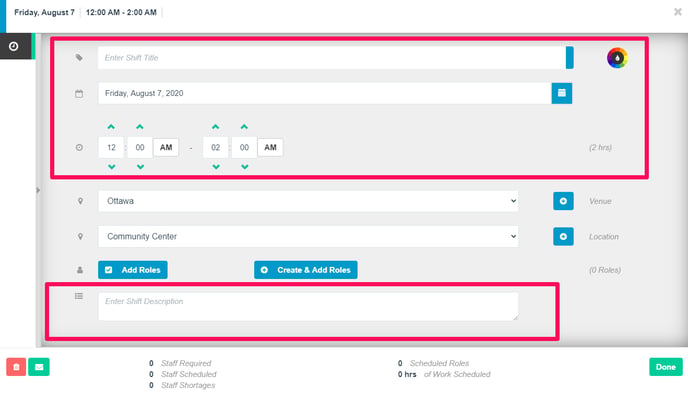 When the general Set-Up has been completed it is time to set a Venue and Location for the Shift. There is the option to choose from any that have already been entered using the dropdown menus, or alternatively, new ones can be created directly within the Shift pop-up. This means that the Manager can skip having to enter all Venues and Locations prior to starting to build out the Schedule.

The final step is to add Roles to the Shift. This can be done by adding existing Roles that have been created, or the Manager can create brand new Roles from within the Shift pop-up. The ability to add Roles from directly within the Shift Pop-up means that the Manager does not need to create them prior to starting to build out the Schedule. The only thing that cannot be created from within the Shift pop-up is new Qualifications.

Now that the Shift has been built Managers can now add Staff/Volunteers to the Shift Roles from directly within the Shift Pop-up. To do this navigate to the Role that you wish to add Staff to on the left-hand side of the Pop-up.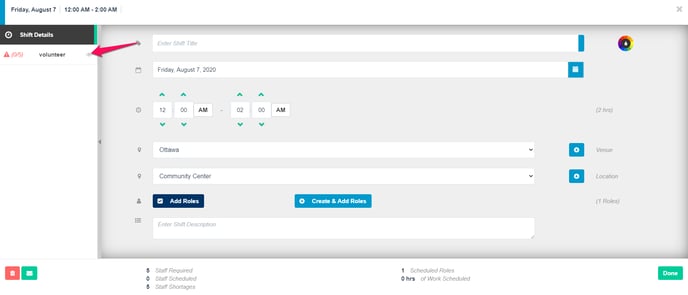 From here Managers can use the Roster Mode button to see a list of Best Matched Staff based on Qualifications, Roles, and Availability if it has been collected during Signup.

Once Roster Mode is open it will present the list of Best MAtched Staff if there are any. If no Staff appears as Best Matched the Manager can expand the list toggling the different radio buttons at the top of the Roster Mode Pop-up.