InitLive is now Bloomerang Volunteer—a new name, a new look, and a new integration. Bloomerang Volunteer works just like InitLive. You can do everything you always do, and in the same way.
Administrators can customize their sent messages so that volunteers are recognizing the Bloomerang Volunteer brand, as well as preventing messages from being delivered into a spam folder.
An email from your verified email can be sent from the Staff list at the Opportunity level. To do this navigate to the Staff list and select the users that need to be sent the email.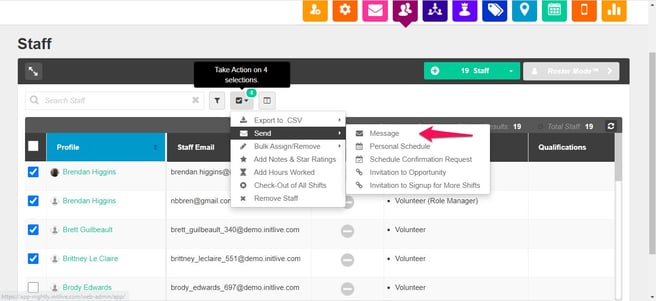 Once they are selected using the Take Action dropdown and select "Send" and then "Message", and you'll be presented with the message pop-up.
You'll need to change the default sender name from "DO NOT REPLY" to your verified email, using the drop-down that provides all Organization Verified emails. Add your name as a custom sender so staff knows whom the email is coming from.
You are able to customize the email subject line, or it will send as the template subject line displayed in the text box. The rich text editor allows you to customize your sent emails, making them as simple or as robust as you need. You can send text-based emails, add images, videos, links, and upload attachments for download.
When you're ready to send the email, you can send a copy to your inbox as a test first before sending, and as well you can include yourself as a sender. This can help track emails sent, and the replies you may receive.