InitLive is now Bloomerang Volunteer—a new name, a new look, and a new integration. Bloomerang Volunteer works just like InitLive. You can do everything you always do, and in the same way.
Email Automations allow Managers to have pre-configured emails go out to their volunteers in several different instances. This automation can be configured at both the Organization and the Opportunity levels, depending on what action the automation is triggered by. The Email Automations that can be configured are: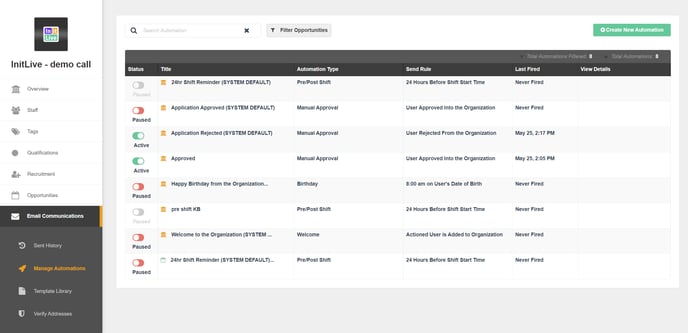 1. Pre & Post Shift Automations
2. Birthday Automations
3. Welcome Automations
4. Manual Approval Automations
---
1. Pre and Post Shift Automations
Automatically contact your volunteers before or after their shift happens. The opportunities to leverage this feature are endless; some of our favorite ideas include:
Create Shift Reminders
Automatically contact your volunteers before their shifts start to let them know when they are responsible for working. This message can act as a friendly reminder to ensure volunteers will show up to their shift. Since messages are fully customizable, you can include important information about the shift, arrival procedures, custom external links (such as covid screening surveys), and even pass along motivational messages. You can even create a series of reminders leading up to a single shift!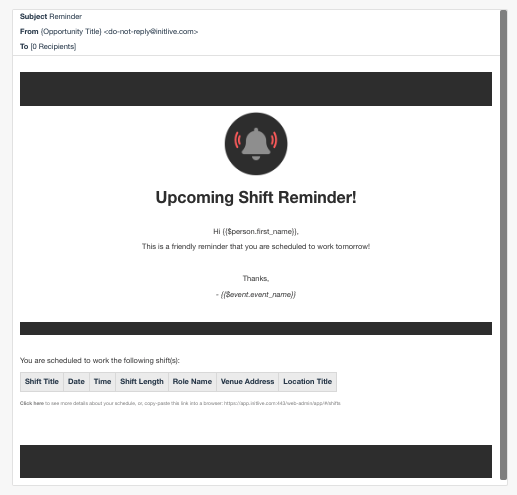 Create Confirmation Requests
Strengthen your attendance strategy by creating a series of automated messages leading up to a shift that include shift confirmation requests.

Create Shift Summaries
Automatically contact your volunteers once their shift is over and build rapport by thanking them for their time. Since messages are fully customizable, you can include custom external links (such as surveys & gathering feedback on their shifts), a summary of the shift information they worked, and total hours worked information for your team to validate.

---
2. Birthday Automations
With Birthday Automations, you can show appreciation to your volunteers and recognize them as individuals by automatically sending them a kind message on their birthday. This feature will guarantee you never forget the important dates, something as simple as a happy birthday message can keep your team engaged with the organization and boost volunteer morale.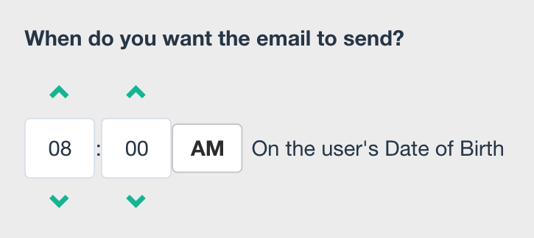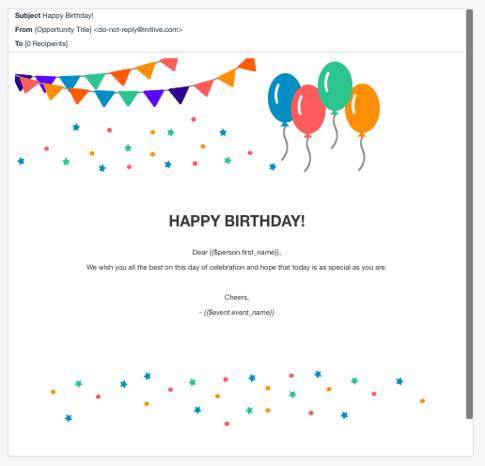 ---
3. Welcome Automations
When users get added to the Bloomerang Volunteer system manually (Ie. added individually, bulk imported from a .CSV file, etc.), set up the system to have an email message automatically sent to them. Some inspirational ideas include:
Invitation Message
Design the Welcome Automation to act as an official invitation, introducing users to your organization or opportunity, and to the Bloomerang Volunteer system.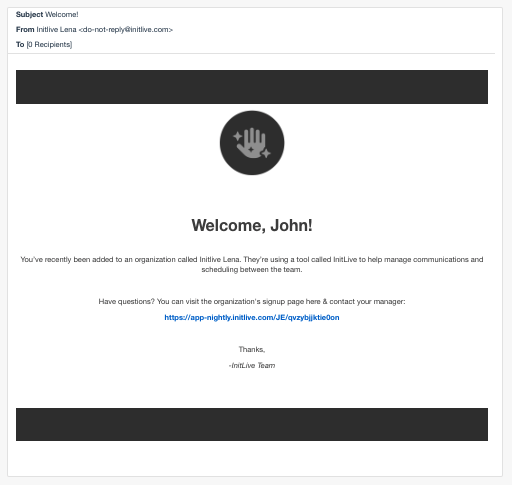 Provide Upfront Training
Welcome Automations can also be leveraged as a way to train your volunteers on all of the policies and procedures of your organization or opportunity. Attach important documentation and provide key instructions to your team to help them succeed.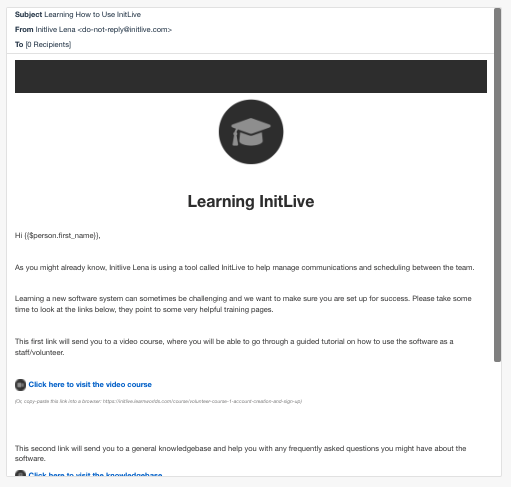 ---
4. Manual Approval Automations
For organizations requiring a heavier screening process, manual approval automations will allow organizations to design and create limitless workflow paths that an applicant can follow.
Customized Onboarding Journey
A targeted onboarding experience can be provided to the applicants based on their custom attributes. Give your team the direction they need and provide information on their next steps. For example, when you approve a member into your organization that has a specific skill, have an email automatically sent to them with special onboarding instructions particular to that skill.

Automate Rejection Messages
Not everyone is a great fit for your organization, and not all applications get filled out correctly. Create multiple types of rejection messages and tailor the system to automatically send the right message based on your specific reason codes.

---
Customization Options
Each of these new automations can be fully customized to achieve whatever outcome your organization desires.
Customize Receivers
Every automation style can be set up to include or exclude certain users based on their attributes. For example, I can assign an attribute to users with a 'Block List' tag and exclude users with that tag from receiving any of the automations.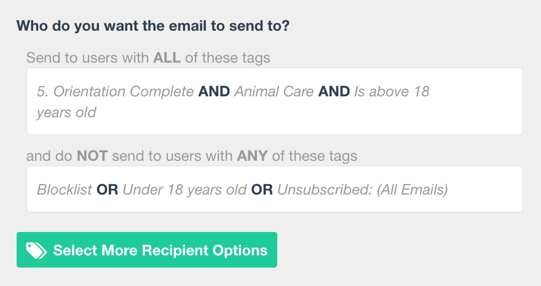 Bloomerang Volunteer Default Templates
Bloomerang Volunteer has created a series of new default email templates found in the Template Library for each automation style that can be leveraged. If you feel more creative, there is always the option to create your own personalized message.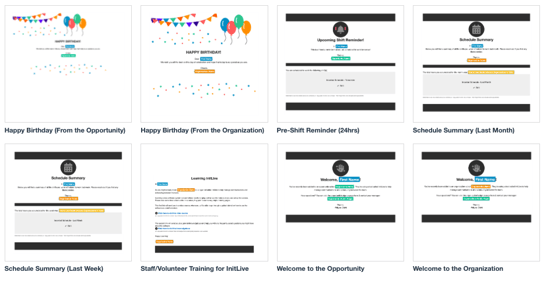 Customize Lead Times
Control the timeline of when the emails will send. For example, if you create a shift reminder, you can have it send minutes, hours, days or weeks before the shift start time.

Unlimited Automations
There is no limit to the number of automations you can create. You can even set up a series of similar automations that send slightly different messaging based on a person's attributes.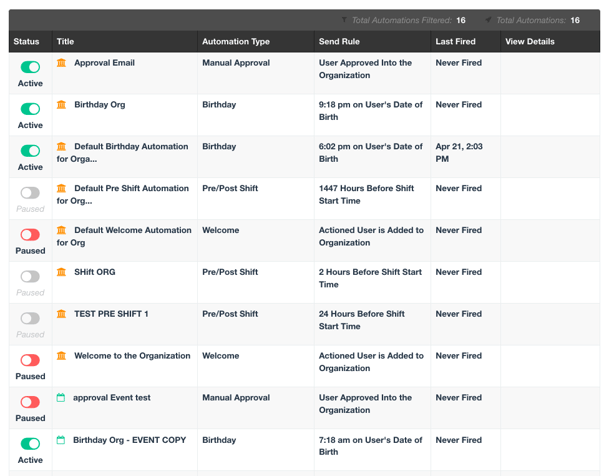 Sending Preferences
Every automation setup can be paused, edited, copied or deleted to suit whatever communication needs your organization might have.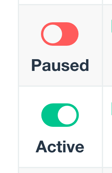 Similar Automation Flags
Bloomerang Volunteer has included a special flag that will let administrators know when a similar campaign exists to help reduce the risk of volunteers receiving duplicate messages.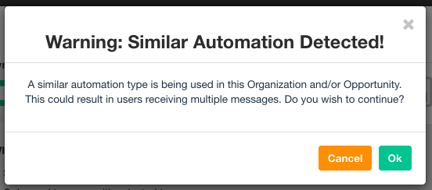 Tracked in Sent History
All email automations will be tracked in the Sent History, so you will always know what has been communicated to your team.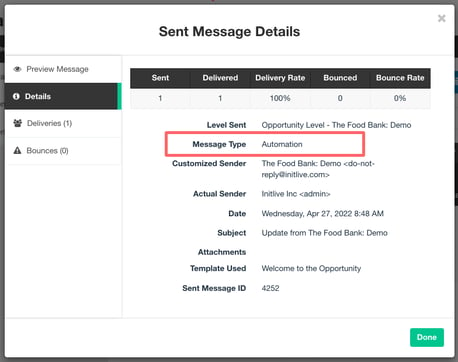 ---
With these new email automation features, you will no longer have to remember, craft, and send manual messages to your volunteers. Your time will be freed up for other mission-critical tasks.