Signup Workflow / Recruitment
How do I send out the Shift Selection Link at the Organization Level?
InitLive is now Bloomerang Volunteer—a new name, a new look, and a new integration. Bloomerang Volunteer works just like InitLive. You can do everything you always do, and in the same way.

The Shift Selection Link can be sent from the Staff list at the Org level. Navigate to the Staff list and select the users that need to be sent the link. Once they are selected use the Take Action dropdown and select "Invite Staff to Sign Up for More Shifts".
This will open a pop-up to select the Opportunity to send out the Shift Selection Link for. The Manager can also enter a custom message and send the selected users the email with the Shift Selection Link for that Opportunity.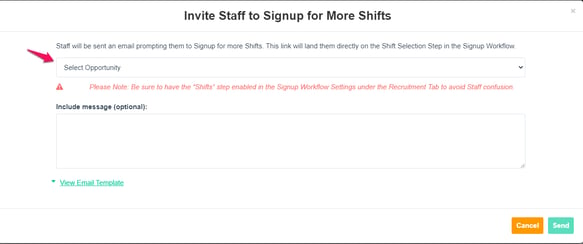 Note: The Shift Selection step in the Signup Workflow Settings must be enabled for staff/volunteers to select more Shifts.