Using the Mobile App (Administrator)
Do Draft Shifts show in the Mobile App?
InitLive is now Bloomerang Volunteer—a new name, a new look, and a new integration. Bloomerang Volunteer works just like InitLive. You can do everything you always do, and in the same way.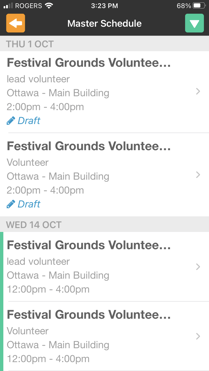 By default, Draft Shifts will appear within the Master Schedule tile for Managers in the Mobile App. If the Manager does not want the Draft Shifts to appear in the Master Schedule list, they can filter down the Shift list to only show Published Shifts.