Using the Mobile App (Administrator)
Can Shift State be filtered in the Mobile App?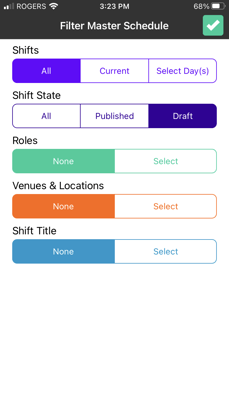 Managers can filter Shifts by their Shift State status from the Master Schedule tile. By default, the Draft Shifts will appear in the list of all Shifts mixed in with the Published Shifts. To filter the list down to only Draft or Published Shifts Managers can use the green dropdown arrow to access the filters. Within the filters, the Manager can choose to show All Shifts or only Draft or Published.