Can I remove a user from Shifts at the Organization level?
InitLive is now Bloomerang Volunteer—a new name, a new look, and a new integration. Bloomerang Volunteer works just like InitLive. You can do everything you always do, and in the same way.
Organization Managers can remove users from their Scheduled and Waitlist Shifts from their profile pop-ups at the Organizational level. Managers can access the profile pop-up by clicking on a user's name from the Staff list. Once the profile is open, they can navigate to the Schedule tab where they can see all the Scheduled and Waitlist Shifts that the user is in. Using the take action dropdown beside a Shift, the Manager will have the same options they would at the Opportunity level, including removing them from the shift.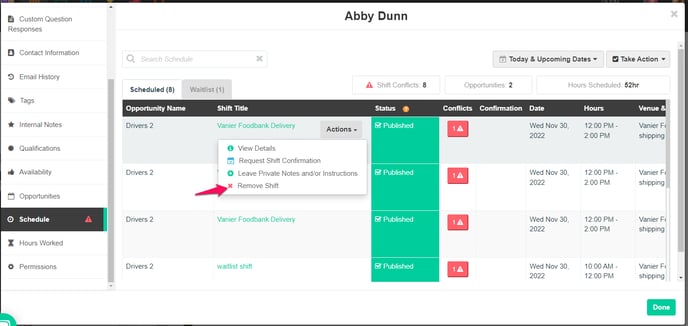 If the user has Shift Conflicts, the Manager can click on the conflict icon to open a list of the conflicting Shifts. From this pop-up, Managers can also remove the user from specific Shifts by clicking on the red X that appears beside the Opportunity name in the Shift details.